A very important component of any laptop computer is, of course, its screen, without which normal use of the device is simply impossible.
Of course, the display is not related to the disk drive, memory, processor, and other components inside the laptop, but the inability to display work results, photos, films, or games renders the device useless. It is, therefore not surprising that among the more serious failures of laptops is matrix damage.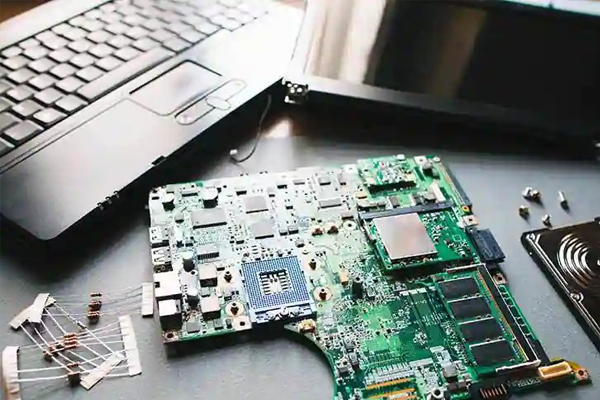 Symptoms of a matrix failure in a portable computer
In view of the above information, it can be concluded that the matrix is a very important part, without which you cannot use your computer normally. Such a part is, unfortunately, expensive and, at the same time, prone to various failures and damages.
Therefore, it is fundamental to take care of the equipment and avoid situations in which accidental damage to the matrix may occur.
Damage that prevents the use of a laptop (such as a matrix problem) results in its owner being deprived not only of the possibility of entertainment but also of working, studying, using the Internet, making purchases or payments online, etc. A defective matrix can be diagnosed quite easily by various symptoms, such as:
Poor or no backlighting (the image is only visible at a particular angle).

Impact and breakage marks in the form of progressive speckling or a visible spider web.

Color falsification (most often in the case of matrices that have been used for a long time).

Vertical stripes regularly appear on the screen.

Disappearing, blinking image.
These symptoms are the most common indications of a damaged or simply worn matrix. Spidering and speckling are the most common symptoms of damage related to dropping, bumping, or slamming the laptop.
Backlight problems, on the other hand, are caused by failures of the inverter, fluorescent tubes, or the circuit responsible for controlling the backlight.
Is it worth replacing a faulty laptop screen?
In most cases, if the above-mentioned failures occur, it is virtually impossible to repair them, whether the matrix is old and worn out or new and damaged. The only option, therefore, is a complete replacement of the matrix with a new item of this kind.
Such an operation is expensive, and if the cause of the problem is different, a new die may be purchased unnecessarily and at a considerable cost. It is therefore wise to visit a professional laptop service centre.
Sometimes the problem may be the fluorescent tubes or the signal tape, which are replaceable and inexpensive. In addition, the warranty service often covers such a failure on new laptops.
What else can be done if the matrix is damaged?
It is worth remembering that a damaged or worn-out matrix does not at all mean the end of a laptop's life. Such a laptop can be connected to a TV or external monitor using an HDMI connection and cable.
It is worth bearing in mind, however, that this is an ad hoc solution that limits the use of the device to a specific place where there is a monitor or TV set. The laptop then becomes a desktop computer. So you can't take it to work or any other place without a monitor or connectable TV.
If you do not have a monitor, you can think about buying one, which is cheaper compared to a matrix. Replacing the faulty matrix with a used one will also be a less expensive option, but you have to reckon with the fact that its lifespan will be shorter than that of a new one.
Professional replacement of the matrix in a computer service centre
Repairing a laptop computer is usually much more complicated compared to repairing a desktop device. Such equipment is characterized by a more complex design and cannot always be completely disassembled with tools.
In addition, in the case of damage to the matrix, which is an expensive component, it seems sensible to visit a decent laptop service to entrust the tasks of diagnosis, repair, and replacement to specialists who have the relevant qualifications and industry experience.
Such support is far better than attempting a repair yourself and ending up with a faulty matrix when all that was needed was to replace the inverter, fluorescent tubes, or tape, or worse still, causing a new matrix to fail as a result of a mishandled replacement. There is little point in trying to save money in such cases, as it can do more damage than good.
Finding a professional laptop service provider is not a difficult task these days. Many such companies like Laptop service center operate in various locations around the country.
In addition, such services have their own websites with information on their offers and descriptions of the principles of cooperation. Finding such websites is, therefore, easy and does not take too long.
In addition, quite a few services on the market serve nationwide customers by mail order and offer technical support with a visit to the customer. These options are available to both private individuals and companies.